View a Weekly Overview
Last updated
You can display a graph showing a driver's activities and duty status durations for 7 or 8-day periods, depending on the driver's duty cycle. Data for MOT/Canadian rules displays according to the driver's MOT duty cycle.
On the Drivers tab, locate the driver to view.
Click the Week Chart icon ( ) to open the Driver Chart.

You can also click Driver Chart from the Driver Details page.

Review the chart
At the top you see available driving, on duty hours, and cumulative on duty hours for the period. If the cell is red, the driver is in violation and is still driving. If the cell is yellow, the driver is within 60 minutes of a violation and is still driving. Drivers receive warnings and alerts for violations and upcoming violations.
along the On-Duty bar depicts the time a driver took as a rest break while On-Duty carrying Hazmat materials.
along the Off-Duty or Sleeper Berth bar depicts the time the driver took with the oil field exemption (time waiting at an oil well that does not count towards the drivers On-Duty daily limit). When used, you see wait time at an oil well summarized in the right column of the graph.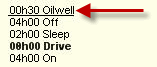 To view a different period, click the calendar icon (

) to select a new end date.