Vehicle Diagnostics 4.0.18 Release Notes
Last updated
HERE Maps Implementation
With this release of VM 4.0.18, Omnitracs will begin using mapping services provided by the HERE Maps for Geoservices.
Maps will function the same as they are now, only the source of the map changes. You might notice some differences in the layout of the map controls such as the placement of the zoom in and zoom out buttons, view selection labels, and few additional features, but all these are very minor and intuitive to use.
Updated Omnitracs Logo
Omnitracs has a new company logo that will begin to appear in header and footer throughout VM application.

Logo Change

Logo in top left in the Header and bottom left in the Footer – Old
Logo in top left and bottom left in the Header and Footer – New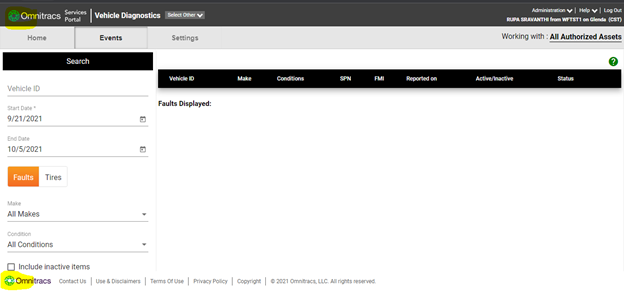 Map Changes
The below section highlights the differences in the user interface between previous and current screens of the application.
Road View – Bing Map
Road View – HERE Map
Highlight: "Choose view" icon in the right bottom corner displaying 4 options - Road, Satellite, Traffic Flow and Traffic incidents, by default Road view option highlighted
Aerial/Satellite View – Bing Map
Satellite View – HERE Map
Highlight: Satellite View of the location highlighting satellite option in the Menu
Traffic Flow in Road View - HERE Map
Highlight: Road view showing Traffic Flow and Option in the menu highlighted
Traffic Incidents in Road View - HERE Map
Highlight: Road View showing Traffic Incidents and Option in the menu highlighted, Traffic information displayed in the tooltip on click of traffic incident
Traffic Incidents in Satellite View - HERE Map
Highlight: Road View showing Traffic Incidents and Option in the menu highlighted, Traffic information displayed in the tooltip on click of traffic incident
Traffic Flow in Satellite View - HERE Map
Highlight: Satellite view showing Traffic Flow and Option in the menu highlighted