Release Notes - APP V2.2.0
Last updated
Release Notes - APP V2.2.0
App Notifications Refresh: Notifications received from web for dispatched, offered and new messages will now re-direct the user to the applicable section (My Loads or Messages) and the app will automatically refresh itself to show the new order or message.

If driver wants to be re-directed, clicking on the notification (while the app is on the background), or selecting "OK" will do.
If driver doesn't want to be re-directed, selecting skip will avoid this.
Non-Billable Stops: Users now will be able to see the Non-Billable Stops and complete them through the App.
Appointments Time Zones: Users now will be able to see the Pickup and Delivery appointments in the time zone of the facility location.
Reference #2 and #3: Users now will be able to add up to 3 references while uploading the BOL information through Scan Image and Manual Input options. This information will be visible for dispatch.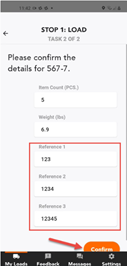 Bug fixes:

Messages will now be shown with the time (HH:MM) of the drivers' devices.
Offered loads will now disappear from the offered section if drivers decline them.
*PLEASE NOTE – For drivers to have access to these major tracking enhancements and new features, they will need to update the Sylectus Driver app to the latest version available. To do so, they have the following options:
Sylectus Driver Settings Section

Go to the Settings Section of the app.
If driver is not on the latest app version (2.2), an update button will appear under Settings.
Clicking on it will take the driver to the app store to download it.
Google/Apple App Store

Go directly to the Apple or Google App Store.
Search for the Sylectus Driver App.
Click on the "update" button to download the latest version.