Omnitracs One 5.9SR New Features and Enhancements
Last updated
Drive
Smartforms allow you to create customized forms for your drivers to complete for company specific tasks. For instance, once drivers complete the DVIR you may want them to confirm the product that is on the truck. Some new capabilities have been added to Smartforms in this release.
Note: Smartforms are only available if you are using Drive Advanced.
You can now create a smart task that can include a signature, photo, or document scan.
You can now create conditional fields on smart tasks, or fields that only appear when defined conditions are met. For instance, you could create a question that only appears if a previous question on the form is true. The following properties can be conditional: required, disabled, and visible.
Miscellaneous
Omnitracs has implemented a digital adoption platform that allows us to provide announcements of upcoming release directly in the application, as well as providing guided tours to help you when setting up your system.
When there is an announcement about downtime or an upcoming release, a banner appears when you log in to Omnitracs.
To access the guided tours and help system, click the orange question mark icon in the lower right corner of the screen.

The help menu opens. From the Help menu you can access the online help system, release notes, and other items you may find useful.


From the Setup menu, click an option to start a guided tour. You will be directed through the steps you need to take, as well as the required fields you need to complete.

The guided tour walks you through how to set up needed items in Omnitracs, including what fields need to be completed.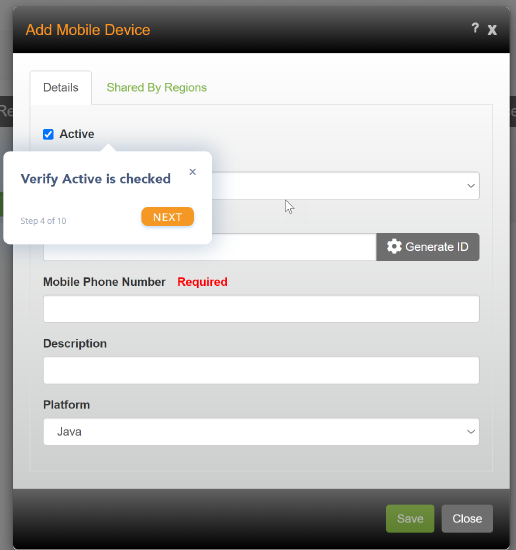 Software Corrections
The following software corrections are included in the Omnitracs One 5.9SR release.
Issue key
Release Notes
Components
RPE-11413
In the FleetView Route Details screen a new column named "Unserviceable Reason Code" was added to the stop grid to display the ID and Description of the unserviceable reason code for stops marked as unserviceable.
Dispatching
RPE-11374
There was an issue causing users to receive an error message when attempting to cancel a stop on the Adjust Arrival/Departure Times window. This has been corrected.
Dispatching
RPE-11595
There was an issue that caused the actual start times to be display the wrong date in Insight. This has been corrected.
Insight
RPE-11373
In some scenarios, the Previous Fixed Service time calculated by the Service Time Updated was not accurate. This has been corrected
Maintenance
RPE-11739
Users are able to query and select a planning session in when executing Territory Stop List report, as well as, Strategic Planner custom reports added to the Reports window.
Planning
RPE-11711
There was an issue that caused invalid previous weeks and days to display after importing a planning solution. This has been corrected.
Planning
RPE-11743
There was an issue preventing planning sessions from being deleted. This has been corrected.
Planning
RPE-11587
There was an issue that could cause import planning solution to fail when large amounts of data were being imported. This has been corrected.
Planning
RPE-11744
There was an issue that was preventing Import Planning Solution from completing with large amounts of data. This has been corrected.
Planning
RPE-11586
An issue that caused import planning solution to fail if the recurring orders had negative cycle quantities has been corrected.
Planning
RPE-11585
The cycle quantities displayed in the recurring orders list after using Import Planning Solution were incorrect. This has been corrected.
Planning
RPE-11584
User can query both modeling and operational planning sessions in order to run the Session Analysis report.
Planning
RPE-11580
Saving worker's overtime hours begin from REST API will now convert from seconds and this will correct the display discrepancy after updating the worker's overtime hours begin with the same REST call.
Routing
RPE-11622
There was an issue for customers using region hierarchy where some routes would not show Telematics GPS in FleetView. This has been corrected.
Telematics
RPE-11756
REST Web Services now allows integrations to assign Open/Close and Service Window Overrides at the Task level of Orders for both DailyPlan/RoutePlan and DailyPlan/Orders.
WebServices
RPE-11654
There was an issue that was preventing undeliverable stop reason codes from displaying after stops were marked as undeliverable. This has been corrected.
WebServices
RPE-11582
The REST API has been enhanced to include Pre-Route time property to Routes. Pre-Route time can be added or edited for a route using the field 'preRouteTime'. This value is in seconds.
WebServices
RPE-11581
The REST API has been enhanced to include Post-Route time property to Routes. Post-Route time can be added or edited for a route using the field 'postRouteTime'. This value is in seconds.
WebServices
RPE-11557
Cancelled stop events were not being created when a stop was cancelled in Dispatching. This has been corrected.
WebServices
RPE-11732
Omnitracs Navigation was fixed to prioritize to route to the stop from Drive, over the last uncompleted route
Navigation
RPE-11620
Fixed the performance issues and reduced the start-up time while launching Omnitracs Navigation for the first time from Drive.
Navigation
RPE-11611
Omnitracs Navigation arrival message box will be closed first, before transitioning to the Omnitracs Drive screen to complete the arrival stops.
This will stop the behavior in Omnitracs Navigation on not to show the arrival message for previously completed stops
Navigation
RPE-11556
Fixed performance issues during orientation changes.
Navigation
RPE-11554
Fixed performance issues during orientation changes.
Navigation
RPE-11484
Fixed sporadic crash issue while trying to activate the application.
Navigation
RPE-10255
After viewing the Traffic Data pop-up on the map, when hovering on a POI icon, the Traffic Data pop-up is displayed instead of the POI pop-up.
Navigation
DCMD-3680
There was an issue where the driver was being navigated to the incorrect stop in Drive. This has been corrected.
Navigation
DCMD-3668
Omnitracs Navigation was showing the location preview for stop address with special characters, instead of routing to the stop. This has been fixed and Omnitracs Navigation will skip the location preview and will start computing the route for all stops from Drive
Navigation
DCMD-3653
There was an issue that could prevent Drive from opening automatically once a stop was auto arrived in Navigation. This has been corrected.
Navigation
DCMD-3633
Switch to Navigation prompt in Drive when appears over the login screen in Drive, was fixed to open Navigation application
Navigation
MA3PI-347
A change was made to how trip reassignments are processed to prevent integrations from failing when a new driver is assigned to a trip.
Drive
DCMD-3410
There was an issue where the Switch to Navigation prompt in Drive could appear on top of the Login screen, but Navigation would not open. This has been resolved and Navigation now opens.
Drive
DCMD - 3296
There was an issue where apparently completed trips were appearing in the driver's Day Planner, but if the driver activated the trip no actions could be taken. This has been corrected.
Drive
DCMD-3326
There was an issue that was causing the minimum and maximum length specifications for smart tasks to be ignored. This has been corrected.
Drive
DCMD-1253
There was an issue that could cause authentication to fail when logging into Command. This has been corrected.
Drive
DCMD-3668
Omnitracs Navigation as showing the location preview when the stop address contained special characters, instead of routing to the stop. This has been fixed and Omnitracs Navigation will skip the location preview and will start computing the route for all stops from Drive.
Drive
DCMD-3237
An issue that could cause long addresses to cover the kabob menu in Day Planner has been corrected.
Drive
DCMD-3653
There was an issue that could prevent Drive from opening automatically once a stop was auto arrived in Navigation. This has been corrected.
Drive
DCMD-3031
There was an issue that could prevent a delivery task's information from being saved properly. This has been resolved.
Drive
DCMD-3730
Stop information was not being sent from Drive to Dispatching properly, preventing the stop from updating properly. This has been corrected.
Drive
DCMD-3565
There was an issue that could cause the driver's active trip to be paused in Day Planner, and another trip to become active. This has been resolved; although the driver may see multiple trips in Dispatched status, only one will be active.
Drive
XRS-572
Some users operating on Short Haul rules were not able to save assigned UVA to the driver's log. This issue has been resolved.
Compliance
XRS-1602
XRS-1609
Some events, including ELD login and logout, duty status changes, Engine Power UP/Down, and Yard Move, were being duplicated in the ELD Driver Log Reports. This issue has been resolved.
Compliance
XRS-3901
eRODS file naming conventions have been updated so they are consistent across all platforms.
Compliance
XRS-4109
The Total Distance Driving value in the ELD Driver Log Report and legacy Driver Log Report were incorrect. Users can now use the Recalculate button to recalculate the log and correct any discrepancies.
Compliance
XRS-4606
When a user entered a comment in the Driver Log Editor and selected Save, the window failed to reload and the change could not be saved. This issue has been resolved.
Compliance
XRS-5039
The total mileage shown in the driver Time Clock Report did not match the value for Total Distance Driving Today in the Driver Log. This issue has been resolved.
Compliance
XRS-1416
Invalid time zones for drivers were being returned in the Driver Log Web Service payload. This issue has been resolved.
Compliance