Run the Vehicles Report
Last updated
Generate a list of vehicles in a group or all vehicles sorted by vehicle group. Use it to ensure that all vehicles are properly entered into the HOS application, for example, that you assigned the correct vehicle IDs and/or aliases.
Click the Reports tab.
Click Vehicles.
Select a report format from the drop-down list.
Click View Report to run the report.
Here is an example of the report run for one vehicle group. The "MCT" column lists the UA of any type of mobile device including MCPs.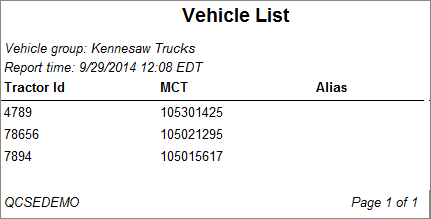 ---
© 2020 Omnitracs, LLC. All rights reserved.
Omnitracs is a trademark of Omnitracs, LLC. All other trademarks are the property of their respective owners.
Omnitracs endeavors to ensure that the information in this document is correct and fairly stated, but Omnitracs is not liable for any errors or omissions. Published information may not be up to date, and it is important to confirm current status with Omnitracs. Specifications subject to change without notice.
This technical data may be subject to U.S. and international export, re-export or transfer (export) laws. Diversion contrary to U.S. and international law is strictly prohibited.